The benefits of engaging communities and creating new opportunities through their arts and culture extend well beyond the neighborhood itself.
Engaging the public through the arts and culture helps produce better projects and is part of building better places that are loved and cared for by a wider community of people.
Arts and culture contribute to the unique identity of a city. They exert an emotional pull that can help attract and keep talented workers. They're part of making places where companies and investors want to locate. Engaging the public through the arts and culture helps produce better projects, promote social equity, and is part of building better places that are loved and cared for by a more diverse community of people.
Engaging the public in this way also builds trust and valuable relationships between local government, public agencies, community groups and the public. That engagement builds a vital bedrock of trust that can build support for future transportation investments and can be the difference between success and failure.
No one is satisfied by the current systems for engagement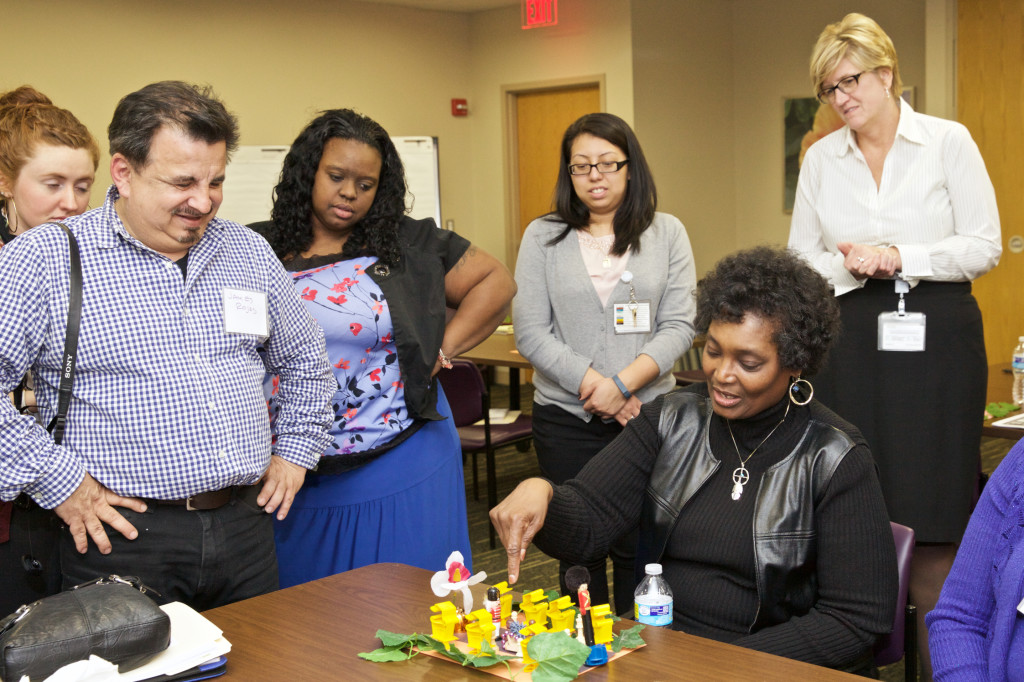 Three trends underpin the desire for a better process.
First, transportation funding isn't as robust as it used to be. The system for funding our nation's transportation infrastructure is more precarious, and the political climate is more divisive. Second, many in the public and in the agencies responsible for planning these projects are frustrated that the ways we engage people aren't more productive. And finally, people feel too often that the projects that get built aren't what's needed most or don't deliver on the tangible benefits that were promised — and they lose confidence in the system as a result.
These broken systems are inextricably linked.
Broad-based public support that cuts across income, race, occupation, profession, and neighborhood are increasingly critical to getting projects finished, winning funding, defending against catastrophic cuts and proving your program's overall worth in a more austere fiscal reality.1 The communities that are succeeding and innovating understand this.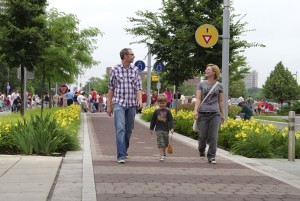 The Town of Normal, Illinois, had over 100 public meetings to establish regional support for its successful application to become the nation's first TIGER grant recipient to build a new downtown multimodal station and civic centerpiece for the town.
The Indy Connect plan, driven for years by the will of thousands of citizens, substantively improved as the MPO , regional transit authority and transit operator conducted the largest public outreach campaign in the region's history.
Transit supporters in the Atlanta region led a massive, multi-year grassroots campaign to secure a ballot measure for Clayton County, GA, to join the MARTA transit system.
The list goes on. Doing everything behind closed doors can lead to blowback and failure. Communities that are able to innovate do so with a broad base of support in which they thoughtfully and intentionally invest time and energy building. Regional consensus has become necessary, though not sufficient on it's own, to be a "can-do" place that can raise new money for transportation or advance critical transportation projects.
It's not easy, but it's worth it in the end
Developing stronger regional consensus and vision and inviting new players beyond your traditional boards and stakeholder groups requires a certain give and take with partners. This may feel like risky, unfamiliar territory, especially when it comes to low-income and minority groups that may have a history of strained relationships, valid feelings of disenfranchisement and little understanding of, or tolerance for, your own very real constraints.
Creative placemaking is one way to experiment with greater community ownership in a small, controlled way, which can have tangible benefits today and tomorrow. Now more than ever, successfully implemented projects, transportation funding ballot measures and the approval of other new funding sources will require a big tent of people that represent a wide range of constituencies and concerns. Creative placemaking can help develop some of the relationships necessary to break the cycle of feeling blindsided when unknown opposition emerges late in the project or political process.
Public engagement is only one piece of the equation, and one pilot program or grant certainly isn't going to transform your partnerships or get everyone in your community on the same page overnight. It can, however, be a valuable tool to determine the kind of collaborations that may work for you, demonstrate value and begin to improve the landscape of available and interested partners.
The benefits of building communities with arts and culture
Anyone who has had to build support for a large-scale public works project knows how challenging it is to balance the goals for the project, the vision of those behind the scenes, and the aspirations of the community. A dash of arts, culture and creativity can ease tension in this process and unite diverse stakeholders around shared values, common goals and community treasures. "It's like cooking," Jack Becker, Executive Director of Forecast Public Art, told us an in interview. "You have to throw in some flavor to get a good outcome."
A creative placemaking approach can bring a range of potential benefits:
Better projects and better places. Engaging the public through the arts and culture helps produce better projects and is part of building better places that are loved and cared for by a wider community of people.
Engages traditionally underserved communities. Most traditional community engagement practices still lack the ability to mobilize community members to build sufficient support for healthy, equitable transportation projects at a large scale. Creative placemaking has proven to have the power to energize vulnerable populations with a sense of independence and ownership that traditional methods sometimes fail to achieve.
Greater visibility for the assets that make your community special. The final product of a creative placemaking process will be unique to your community. Whether it is a community-led art installation, a day-long street festival or a list of community comments, creative placemaking allows communities to write their own perspectives and histories and establish their own unique legacies.
A planning process illuminated and clarified through art. Transportation planning can be difficult enough to understand, much less be the forum of robust dialogue and constructive debate among community members. Too often, people are unintentionally confused, overwhelmed by or left out of planning decisions. Using art as a medium to discuss planning helps foster rich dialogue about the community's concerns, ideas and support for transportation and/or development projects in ways that are more relatable and meaningful to the average person.
Leaves a legacy of active community participation. Successful creative placemaking approaches have proven to foment ongoing dialogue about community and transportation plans. While many people with limited time and means may be hard-pressed to attend planning meetings, creative placemaking can be done at the community's discretion. Creative placemaking is a flexible tool that gives people the freedom to offer input in their own words and on their own time.
Breaks down barriers using creative expression. Art is a catalytic agent for people to tap into and express their concerns and ideas to improve each of these factors by securing a transportation system and development pattern that works for them. Art can also ease tensions between people, which can be an important aid in addressing the insitutional inequalities of the transportation system.
Brings fun into hard work. The arts inspire us. Creative placemaking is inviting and exciting, spurring the necessary cognitive abilities to tackle hard challenges that require collaborative and focused problem-solving. As an effect, creative placemaking may strengthen the social bonds and group cohesion needed to tackle complex problems – like public transportation, multi-use development and complete streets – collaboratively. Further, creative placemaking empowers people to create new associations and think about a challenge in a new way, eliciting perspectives and thoughts they might not have arrived at without the power of social practice and socially created art.
Grant funding can help strengthen your efforts
You can use your civic participation dollars to work strategically with community partners, and there are additional resources available to help you get started with creative placemaking, which can often be matched with local dollars.
Most of the projects featured in this resource were made possible thanks to a broad movement by national and local funders to support local experiments to incorporate arts and culture in community revitalization.
For the past five years, the National Endowment for the Arts and its partners have been building support for creative placemaking in America. After publishing a foundational report on the topic, the NEA has invested over $21 million in communities in all 50 states and Puerto Rico through the Our Town grant program. In addition, they are building knowledge of the topic across different sectors through grants and convenings, and have established many partnerships with other federal agencies working on community development issues.
In addition, the former chairman of the NEA, along with leadership of 13 foundations, established a new funders collaborative called ArtPlace America, which has invested in 227 creative placemaking projects across 152 communities of all sizes in 43 states and the District of Columbia since 2011 through its National Grants Program.
Among those participating in the the ArtPlace AmericaArt funding collaborative, the Kresge Foundation also funds additional creative placemaking activities, including those that test the integration of arts and culture within other sectors. Projects that we highlight in Portland, Nashville, San Diego and Detroit in this primer were made possible with Kresge support. The Kresge Foundation invests in communities using a guiding set of creative placemaking characteristics: (pdf)
Embed arts and culture in larger community revitalization initiatives
Engage in cross-discipline, cross-sector activities
Exhibit strong leadership
Advance a shared community vision
Extend benefits to all stakeholders, especially low-income community members
Demonstrate commitment to sustained engagement and participation of all residents
Work to ensure current residents can remain in their community even where revitalization changes neighborhood economics
Honor community distinctiveness
For more information about funding and financing creative placemaking:
The Kresge Foundation Arts and Culture program overview http://kresge.org/programs/arts-culture
Project for Public Spaces primer on funding sources for public art http://www.pps.org/reference/artfunding/
Americans for the Arts overview on percentage for arts programs (pdf)
Forecast Public Art funding and budgeting information in their Public Art Toolkit http://forecastpublicart.org/toolkit/tools/budget.html
Read Transportation for America's report about the lessons learned from efforts in 2015 to raise new transportation funding at the state level. http://t4america.org/maps-tools/state-transportation-funding/capital-ideas-2/lessons-challenges/