Philadelphia earns prestige mapping its cultural assets
Philadelphia, PA
Cultureblocks is a free online tool developed for the City of Philadelphia that maps nonprofit arts and culture groups, "cultural businesses," public art, galleries, and cultural events.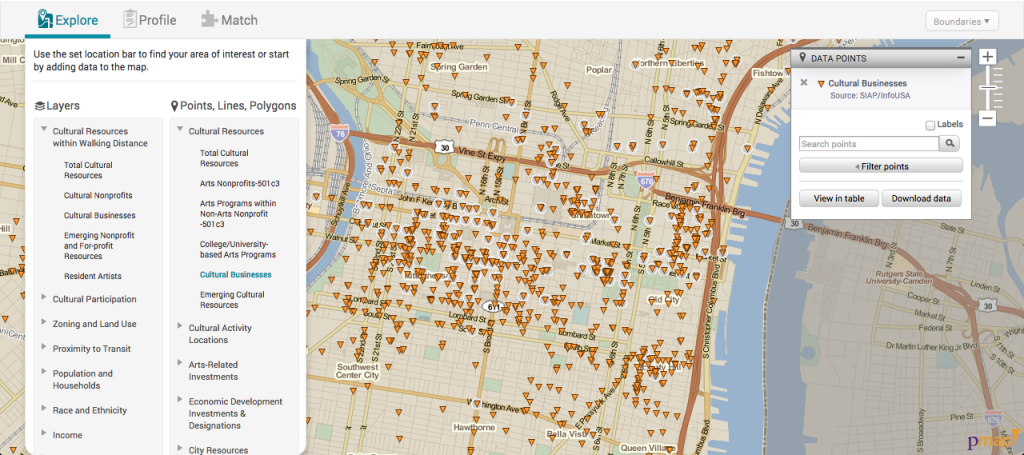 This tool allows individuals and organizations to locate activities in their own backyard, while researchers use the aggregate data to identify trends and compelling conclusions about the role that these arts and cultural resources play in stabilizing communities. This tool has helped Philadelphia better and more strategically decide how the city invests in its neighborhoods. As former Mayor Michael A. Nutter said in a statement accepting a 2015 Harvard University Bright Idea Award on behalf of the project:
"CultureBlocks is a tremendous resource for all Philadelphians to keep track of the wealth of arts and culture experiences available. Having this information in one place, easily accessible, allows us to make better, more informed decisions around research, planning and investment in our city's creative economy." 1
Read more on the NEA case study: http://arts.gov/exploring-our-town/culture-blocks

Conducting surveys to learns what makes the community tick
Montgomery, Ohio
The small town of Montgomery had long emphasized civic engagement through volunteer incentives and other programming designed to build stronger bonds in the community, but they didn't know how to tell if any of it was working. So they set out to learn how to measure local sentiments on civic engagement and track participation — though those tools can be easily adapted to help understand the arts and cultural resources that community members value.
"They approached us without a lot of money, staff or time, wondering what kinds of evaluation would be possible," said Amanda Thompson, a creative placemaking expert now with the Knight Foundation who also contributed to Decatur, GA's cultural master plan as city planner for Decatur, Georgia.
Thompson helped officials develop a common working definition of civic engagement, administer focus group surveys in order to better understand how people felt about Montgomery, and identify measurable ways to track levels of community engagement. That process is outlined in a toolkit for The International City/County Manager Association, Measuring Community Engagement. Thompson notes that the process can be easily tailored to by substituting "community engagement" with "arts and culture".
An artist turns citizen-led cultural mapping on its head
Los Angeles County, CA
In light of the significant current and future investments being made by Los Angeles County in the unincorporated south LA community of Willowbrook, the Los Angeles County Arts Commission developed a project to illuminate the neighborhood's creative potential for planners, designers and policymakers.
The Arts Commission worked with local arts organization LA Commons to produce a community survey and commissioned artist Rosten Woo to produce public engagement activities that as he says, "produced a series of publications, events, and installations designed to make visible what was already there." The project revealed an expression of unique cultural assets, including resident's homes, gardens and vehicles that were documented in the well-received book Willowbrook Is/Es…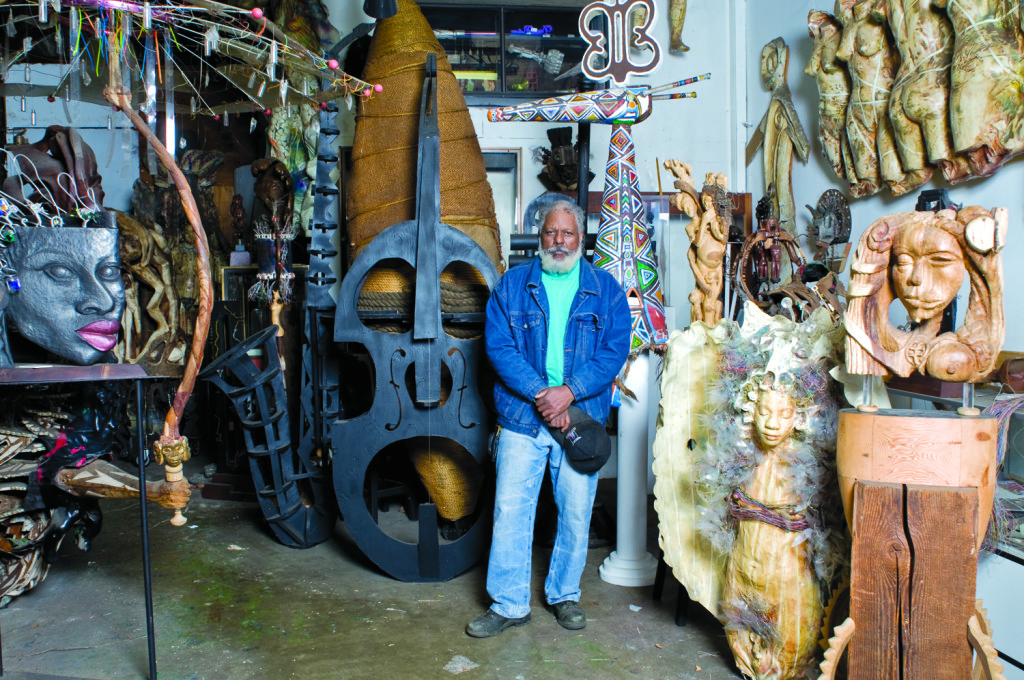 The book is a tool to reframe the discussion about Willowbrook, a community perceived, along with the adjacent communities of Watts and Compton, as ground zero for poverty, gang violence and low educational attainment. It demonstrates that while the statistics may say one thing, Willowbrook, like all communities, is one of complex identities, and distinct and thriving cultural and creative practices.
Proceeds from book sales benefit the local library foundation. The project has become a model project in Los Angeles County, making a case for artist-led projects that help unincorporated communities retain their unique identity and character during substantial planning and community development efforts.  Additionally, the project inspired Los Angeles County Supervisor Mark Ridley-Thomas to commission similar books for other unincorporated areas of the region.
More about Project Willowbrook can be found here: http://www.lacountyarts.org/willowbrook.
Employing cultural mapping to build relationships, spur healthier communities
California
In an effort to address health issues in some underserved neighborhoods, a private health foundation worked with the Alliance for California Traditional Arts (ACTA) to develop profiles of cultural treasures for four communities. Like Philadelphia's Culture Blocks example above, their methodology resulted in a series of maps of cultural treasures on a web portal that also includes information about local services, Healthy City.
For ACTA, however, the maps were not the only end goal. Rather, understanding the cultural resources about which local communities care served as a starting point for developing local relationships and engaging the community on public health issues. The ACTA project team conducted interviews, created videos about local cultural treasures, and organized events. These activities showcased these treasures and engaged the community in participatory arts and cultural practices such as painting, song, and dance; all while weaving in information about the campaigns of the Building Healthy Communities initiative.
Amy Kitchener, Executive Director of the Alliance for California Traditional Arts, explains, "When people are being creative, their guard is down and their hearts are open. As a result, they are more open to new ideas and receiving this information." This project resulted in hundreds of community members gaining new access to health resources while developing positive new associations with their neighbors and leaders of the initiative.
Watch a video of this project here:
Read more about the Harvard Bright Idea Award here http://creativephl.org/post/111576517854/cultureblocks-harvardashcenter-brightidea