Seattle integrates arts and culture across departments
Seattle, WA
Seattle was one of the first cities in the country to pass a public arts ordinance (in 1973) and to make one percent of the budget for any eligible capital project available for the commission, purchase and installation of artworks in a variety of settings. Now, artists not only develop public art plans, but also integrate art into the city department's routine work and infrastructure, while the regional transit agency partners on a suite of arts engagement programs.
Artist in the DOT
In 2013, Seattle DOT's hired an artist to develop an art plan which "is focused as a plan of action," according to an online introduction, "comprehensively detailing how Seattle can become a national leader in creating a more humane, layered, beautiful and relevant transportation system." The introduction continues:
"It offers a completely new methodology for rethinking the practicality and use of our shared right-of-way. By employing the work of artists, the creativity of citizens and the ingenuity of SDOT employees, the gradual implementation of this plan will contribute significantly to a Seattle whose streets and sidewalks celebrate life, discovery and creativity."
The plan, available in three parts, provides an overview and visual encyclopedia of art in the right-of-way as well as a toolkit for project managers with handy one-page examples of various project types.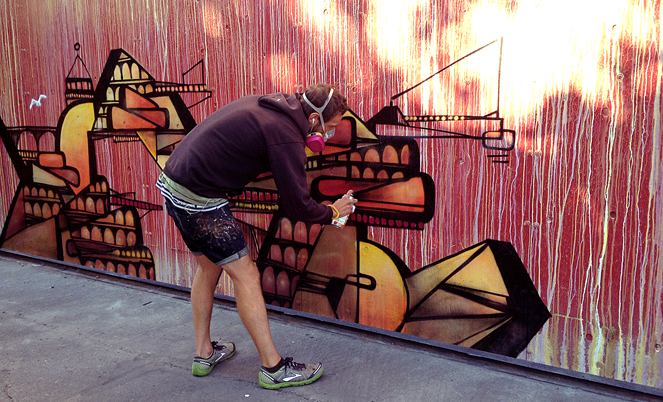 Vaughn Bell, while employed as an artist at the Seattle DOT, spoke of her common ground with her colleagues in an interview with Americans for the Arts.
"For me, it resides in a fascination with how people experience places. Adding a subtle finish to a concrete wall or an imprint to a sidewalk, on a project which would otherwise be concerned almost entirely with 'moving goods and people' through the city, I am hoping that we can create a moment for a higher degree of attention and connection to the place."
Regional and local programming
"Community members have come to expect arts engagement as part of the transit project development process" Sound Transit Art Program Manager Barb Luecke told us in an interview. Among the collaborations, Metro Transit in King County has involved youth and other members of the community in designing and painting murals at local stops since 1989. Metro contributes panels and paint, and members of the community donate their artistic talent.
More recently, Metro expanded the scope and depth of its programming in partnership with King County's cultural services agency, 4Culture. Since 1992, Metro Transit and 4Culture have presented poetry from community members on placards placed above the bus seats. In 2015, the Poetry on Buses program expanded to include poetry workshops in five languages, an online poetry portal, and digital artworks designed for mobile devices meant to be accessed on (and call attention to) the region's new Wi-Fi-enabled rapid bus service, RapidRide.
Supporting local culture
The City of Seattle also provides grants for facility renovation or new construction to nonprofits that can demonstrate a record of ongoing artistic or cultural accomplishments.