Bolstering local culture with infrastructure investments
Chicago, IL – A set of statues signal and protect the nation's Puerto Rican enclave
Chicago has long had a Puerto Rican population, but it was only in the last 20 years that the community found a more permanent home within the city. In the 1970's and 1980's, Puerto Rican residents were displaced from a series of neighborhoods by an influx of affluent whites, moving from Lincoln Park to Wicker Park to West Town. In the 1990's, community leaders feared another wave coming to West Town and came together to do something about it. A coalition of more than 80 Puerto Rican community organizations and business leaders formulated a master plan to prevent another wave of displacement by using the political and economic tools of development to their advantage.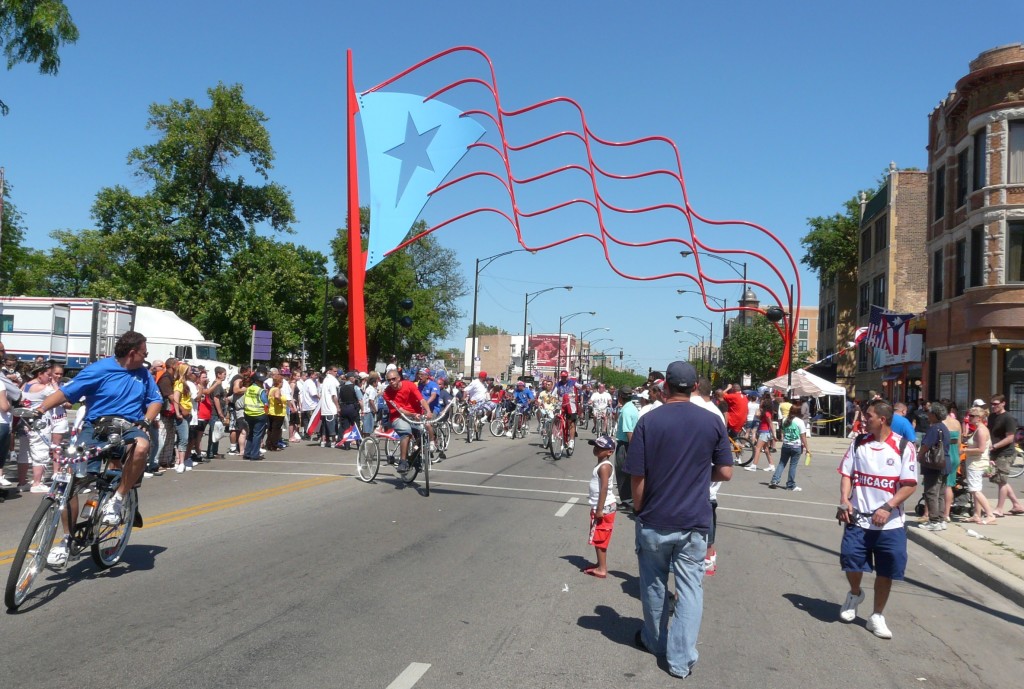 The group decided to focus on a mile-long stretch along Division Street between Western Avenue and Mozart Avenue where just over half of the buildings were owned by Puerto Ricans and other Latinos. Their goal was to further concentrate Puerto Rican-owned businesses in the area, expand affordable housing, and protect businesses and residents alike from being displaced through rising rents and property taxes.
Having organized and established more political representation than Puerto Ricans had in the past, local leaders gained support from the City of Chicago for their efforts to establish a Puerto Rican enclave that came to be known as "Paseo Boricua" (loosely translated as "Puerto Rican Promenade"). In 1995, the city solidified this support with a gift that is now the neighborhood's hallmark feature: two 59-foot, steel Puerto Rican flag sculptures, crossing Division Street at either end of the commercial strip.
The flags established an identity for the corridor and also physically helped to claim the space as Puerto Rican. The flags were part of a series of city initiatives in the neighborhood (of Humboldt Park) providing matching funds to improve business façades to resemble Old San Juan colonial buildings; enabling tax-increment financing as a redevelopment tool; and attracting developers and local financing to match programs such as Low Income Housing Tax Credit, HOME and Community Development Block Grants to build over one hundred units of affordable housing. Local leaders say the flag statues played a critical role in establishing Paseo Boricua as the central economic, cultural and political focal point for the community.
"Business sales have increased 30 percent in Paseo Boricua since the flags were unveiled," wrote scholar Nilda Flores-Gonzalez in 2001 research. In the first year after the flags were installed, 16 new businesses opened, and by the end of the decade the corridor boasted more than 90 businesses and organizations.
Two decades later, the flags continue to protect. Though the adjacent neighborhoods have changed dramatically, rents have increased nearby, and Puerto Rican businesses have been displaced around the corridor, the stretch of Paseo Boricua between the statues still serves as the community's understood focal point, boasting a variety of distinctly Puerto Rican businesses, multiple affordable housing units, nonprofits and political offices that serve Puerto Rican constituencies. Now, community groups are fundraising to construct a new local cultural hub that will include 15 live/work apartment for artists and their families, retail space, a multi-media theater, a 3,000-square-foot gallery and a piano lounge.