Nashville gets more than a crosswalk
Nashville, TN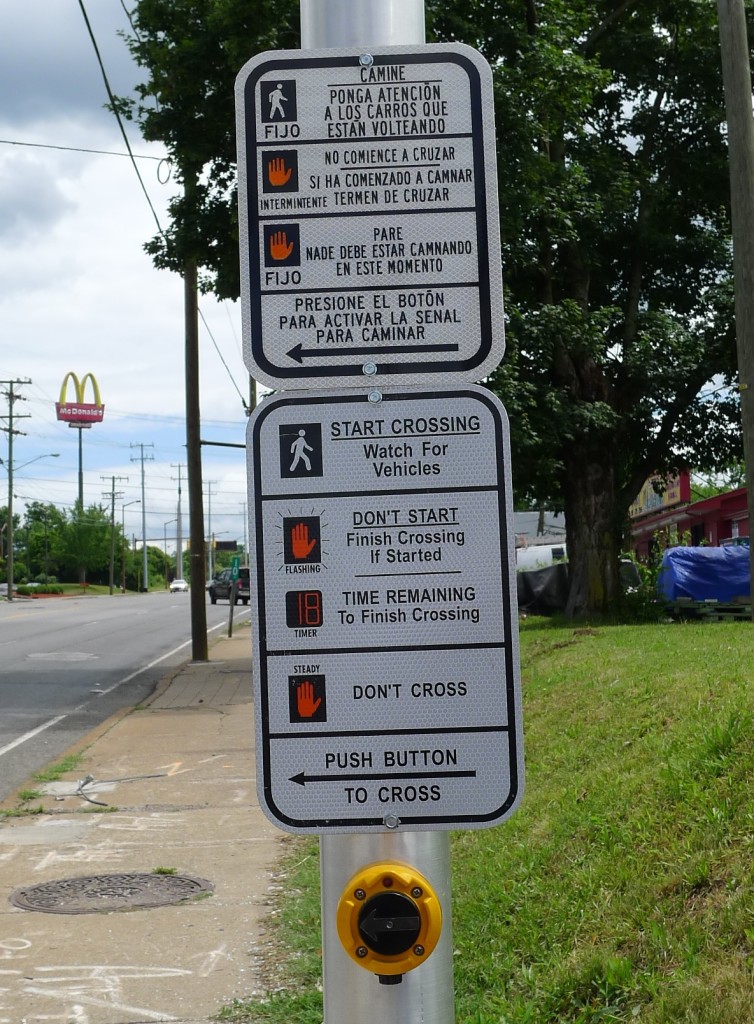 In Nashville, the Nashville Metropolitan Planning Organization (MPO) dedicated staff time to engage a local Latino services organization in planning a corridor with a new bus line.
That organization's local voice is helping engage more constituents, develop community-led visions, elicit unique concerns about and solutions to transportation/ development plans and ensure that stronger grassroots coalitions will take a front seat in determining how their neighborhoods change.
Their involvement led to the city's first bilingual crosswalk (with instructions in both English and Spanish) that will soon be designed to reflect the neighborhood's diversity and cultural assets. This is inspiring residents, local businesses and community groups to think of their own ideas for transportation improvements in the area.
Nolensville Pike
Nashville's MPO has been a leader in demonstrating how an MPO can help build healthier communities, notably through incorporating new policies in 2010 that prioritized transportation projects with walking and bicycling infrastructure and dedicated funds for active transportation.
Next year, the Nashville Metropolitan Transit Authority will begin express buses along Nolensville Pike, a five-lane, fast-moving arterial with eroded sidewalks, few crosswalks and no bike lanes in one of the city's most diverse areas that is also home to the majority of Nashville's Latino population. With these upcoming transit improvements planned, the MPO saw an opportunity to engage community members in identifying concerns about and ideas for getting to the bus — while ensuring that the community has a hand in the vision for future changes in transportation and development.
Identifying a partner
The MPO partnered with Conexión Américas, a nonprofit that aims to integrate Latino families in all aspects of life in Middle Tennessee, as the means to best connect with Nashville's growing Latino community on the project. The two are securing funding to support greater involvement of Conexión Américas. Conexión Américas has long integrated the arts and culture in its outreach work and in its flagship building, Casa Azafrán, in order to reach more immigrants, refugees, Latino families and individuals in Nashville.
Dreaming big and developing a vision
Project partners, including artists Jairo and Susan Prado, developed a vision for a colorfully painted, bilingual crosswalk as the first desired transportation improvement. This crosswalk would serve a few goals: first, to connect their headquarters at the community center Casa Azafrán with the local bus stop and parking spots for staff and visitors. Second, to solidify the corridor as a home for the Latino community. Finally, to inspire the imaginations of future partners to come up with their own ideas and participate in local planning processes to make them a reality.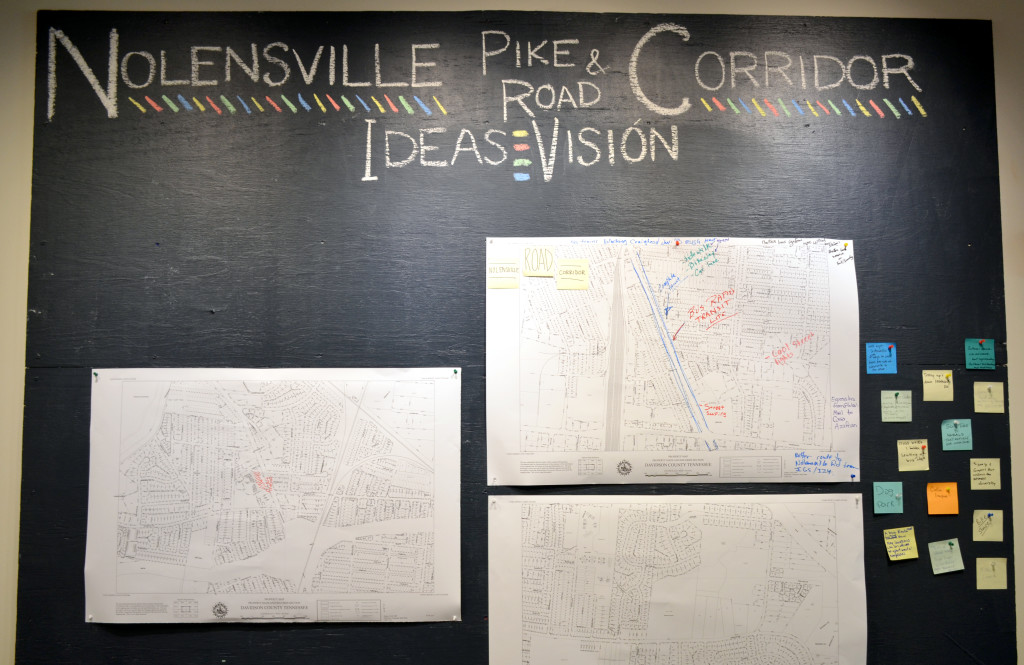 An MPO staff member dedicated time for the project. The MPO and Conexión Americas reached out to the Metro Department of Public Works to advocate for the crosswalk; Conexión Américas was an essential partner in making the case. While obtaining approval for the creative design is still in the works, the Department of Public Works and the Tennessee Department of Transportation delivered the state of Tennessee's first bilingual crosswalk, one that welcomes their diverse visitors with instructions in both Spanish and English.
Continuing collaboration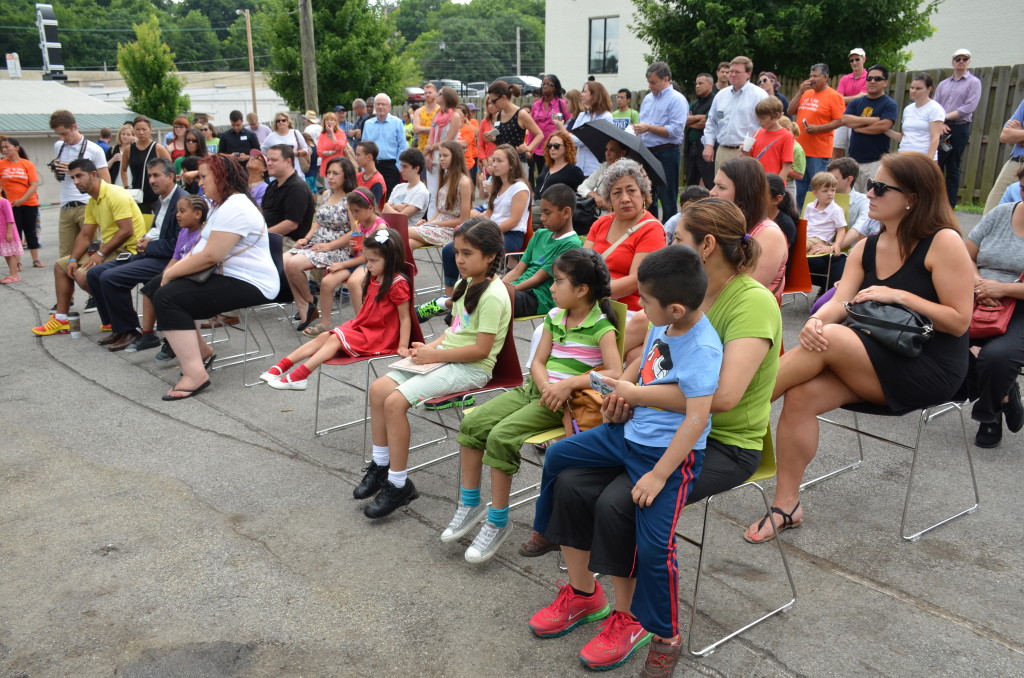 The involvement of Conexión Américas will be integral to both creating an artistic crosswalk in the near future and leading others who want to do similar projects. Further, Conexión Américas and the MPO will host a series of interviews with community members, workshops, and community meetings with residents, business owners and community organizations. This effort will result in a community-led vision for transportation investments in the corridor, identify unique concerns about and ideas for transportation in their neighborhoods and energize community members to participate in future planning processes.
Momentum from the project has already helped catalyze additional community-led ideas for complete streets designs like improved sidewalks, new crosswalks, new bicycle lanes, improved lighting, traffic calming and new streetscaping, as well as more public parks along the corridor.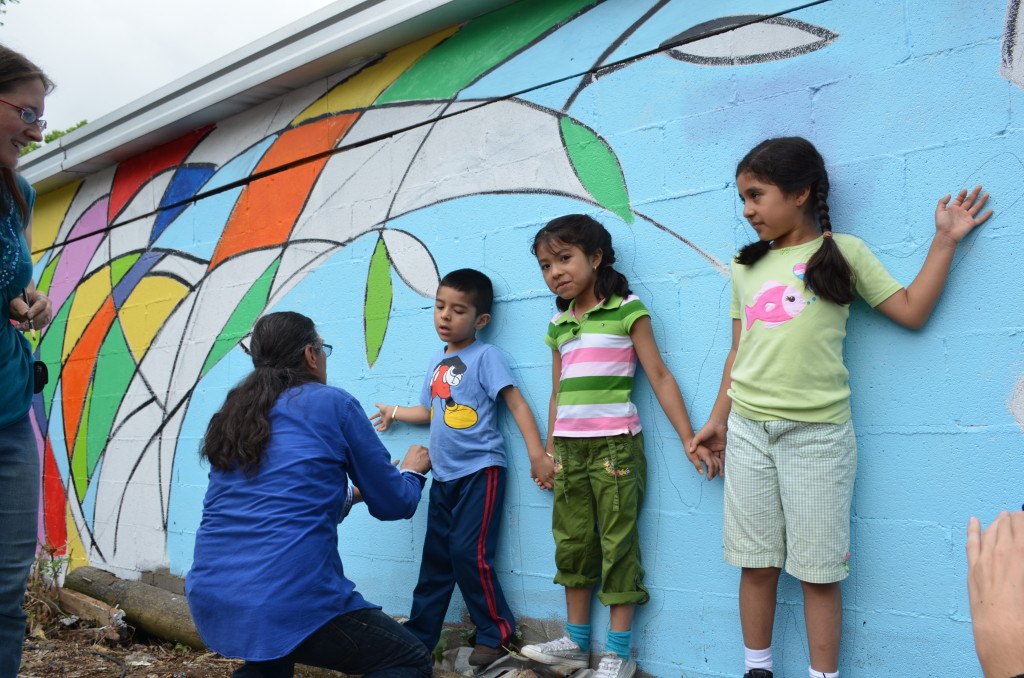 Lessons learned:
Having dedicated staff from government agencies to help navigate regulations and decision-making processes can help the community realize their visions.
Having an arts-based focal point can build momentum and support for public works projects.
Engaging effective local messengers to voice the vision, explain the need and make the ask can make a world of difference when budgets are tight, backlogs exist and transportation projects compete.