In Portland, Oregon, arts-based engagement has helped improve communication between local agencies and community members while supporting local advocacy efforts to ensure that a new bus line promotes health and opportunity for existing residents.1
This story is also used as the local example of the approach "Develop Local Leadership & Capacity." Read more about this approach here.
Rents have crept up around the City of Portland due to a well-known population boom, moving east towards neighboring Gresham. So when Metro, the region's metropolitan planning organization proposed a new high capacity transit line connecting the two, many had concerns about neighborhood change and displacement. The Powell-Division Bus Rapid Transit (BRT) line will connect Portland and Gresham via a busy state highway that passes through a working class corridor that serves many of the region's ethnic minorities.
Watch this video about the changes in the Jade District via the embed above, or on the Metro website: http://www.oregonmetro.gov/news/corner-change
Metro convened a diverse steering committee (state DOT, city councilors, commissioners, local nonprofits, community groups and business districts, watershed council, local colleges, state legislator, health/equity/environment groups, major employers) to guide the alignment and planning around the line. 2
Following that, several members of the steering committee developed a group to focus on the equity impacts of the line's planning and eventual transit service on the affected communities. This was joined by community members, advocacy organizations and professionals working on equity issues; as well as staff from TriMet, Portland, Gresham, Multnomah County, the Oregon Department of Transportation, and Metro. This ad-hoc equity group has held ongoing and collaborative conversations to identify recommendations and develop opportunities that would ensure affordability and community benefits as the corridor develops. Having this diverse set of stakeholders has helped with the identification of opportunities. For example, one member is one of the region's largest developers of low-income housing, and having the county health department on board allows community advocates to back up desire for additional tree canopy with data about local health benefits.
Tapping artists to mobilize and assess needs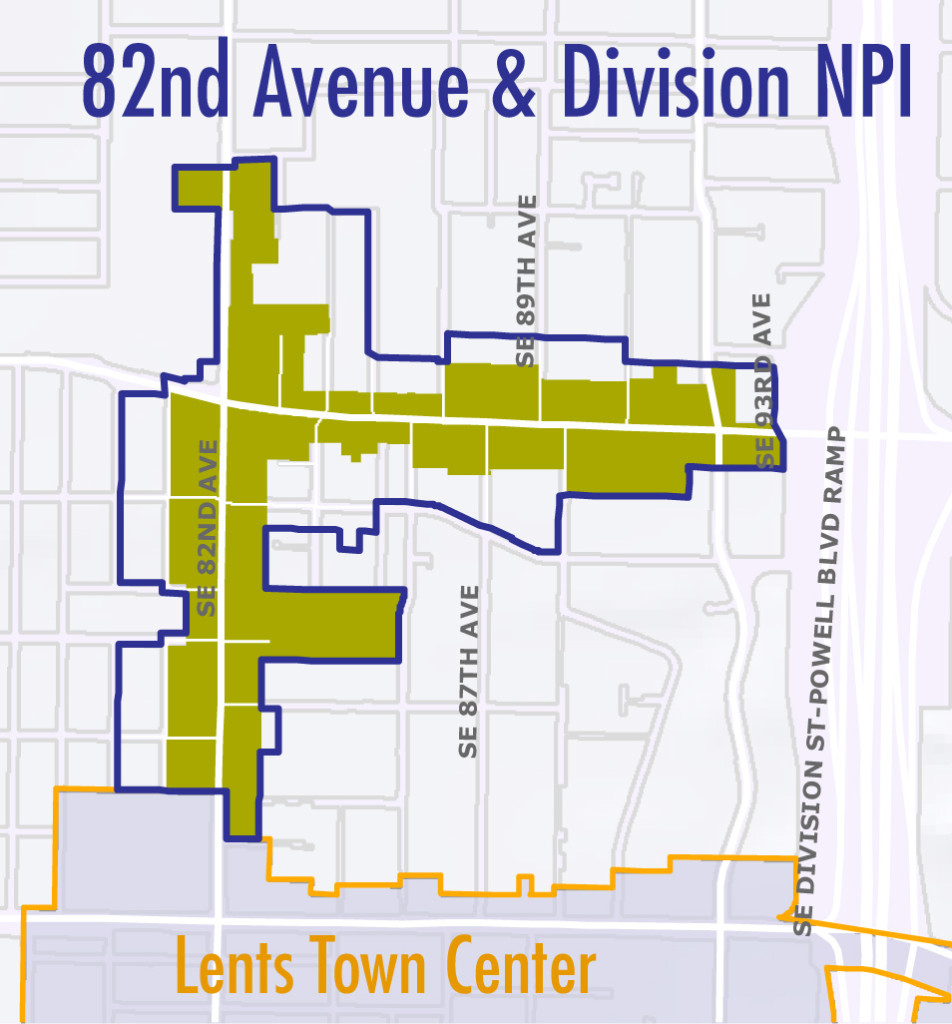 For the local organizations that represent communities along the route, it was a priority to organize. The Division Midway Alliance (DMA) and local chapter of the Asian Pacific American Network of Oregon (APANO), centered in the Jade District, had a previous working relationship as peer members of "Neighborhood Prosperity Initiative" districts, a program which focuses on community economic development at the neighborhood scale through grants, training and support. DMA and APANO utilized arts and culture to heavily involve existing community members, while providing a way to voice and begin to address concerns about gentrification and displacement.
How did they use arts and culture? As a first step to this process, APANO convened a series of community meetings that included an artist facilitator to dialogue and collaboratively produce community visions. Conducted in four languages, APANO used the meetings to solicit residents' needs and vision for the corridor. Artists incorporated the responses into illustrations, which ranged from street improvements to parks and green space to signage and branding.
The meetings also allowed APANO to promote a healthy dialogue about the project. "It has been a great organizing tool," said Todd Struble, Jade District Project Manager for APANO. "Part of our goal is shifting perceptions about what gentrification is and getting people talking about transit and displacement, so we can have a more unified voice around it."
APANO has in turn used these illustrations in meetings with local leaders to both showcase desired outcomes from any capital improvements that accompany the BRT line, and illustrate the imagination and creativity in the corridor that they hope future plans will protect through affordable housing and capital investments.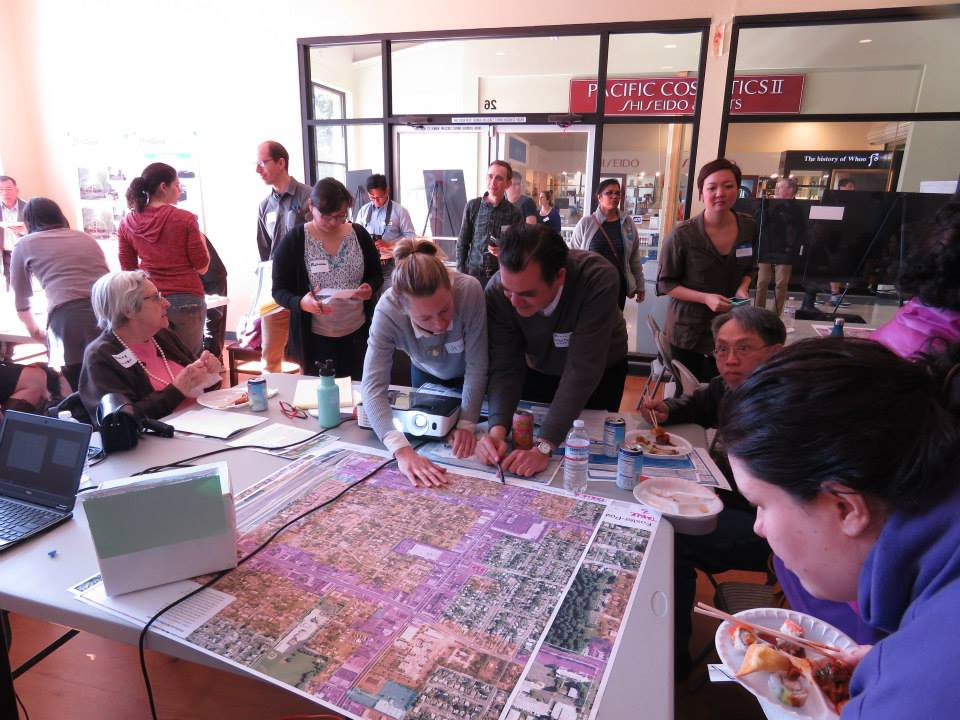 Tapping artists to showcase the community's assets and strengths
APANO and DMA also hired two artist organizers to facilitate conversations with community members on how to reflect people's concerns and ideas about transportation and development in their neighborhoods. The groups led outreach to market owners, residents of apartment complexes with diverse populations, schools, neighborhood associations and local groups with relationships to residents interested in development along Powell-Division.
Organizers then hosted a workshop in February 2015 for 30 artists and community members interested and engaged in community development issues. After the workshop, the artist organizers helped the Jade District and DMA select local artists to make small-scale art installations to bring attention to the groups' shared strengths, including a robust international market community.
To date, seven artists have won small grants to develop creative placemaking projects that celebrate their neighborhoods. Many of the projects have helped form a narrative of the cultural/community assets that exist in these neighborhoods and have highlighted local businesses, many of which are owned by people of color. For example, a documentary showcasing the diversity of local food options will be screened at annual summer festivals that draw tens of thousands from across the region.
This has helped raise the profiles of communities, and bring community members together, as local groups organize to head off gentrification and displacement of existing residents and businesses. "I think it's absolutely brilliant that we use artists to engage the community, said DMA district manager Lori Boisen, "we're seeing community members feel like they can do something, and the artists are helping to activate that entrepreneurial spirit."
The benefits for the community, Metro, and the region
The visioning result renderings and art projects have played a role in putting the Jade and DMA communities on the radar. "Anything that helps our leaders to better understand these communities is a plus for the decisions that they ultimately make," said Dana Lucero, Senior Public Involvement Specialist at Metro.
In APANO's case, that later translated into real opportunity. When APANO held a kickoff meeting to showcase its renderings, it not only brought many regional stakeholders together to talk about the future of the neighborhood, but also brought together numerous government agencies that don't always talk to each other. At the meeting, a staff member from Metro noticed desired community space on one of the renderings and began asking questions. In response to community interest in preserving long-term affordability as the area benefits from new investment, Metro acquired a furniture store property near the future transit station area, with the intention of seeking a developer to redevelop the property with long-term affordable housing.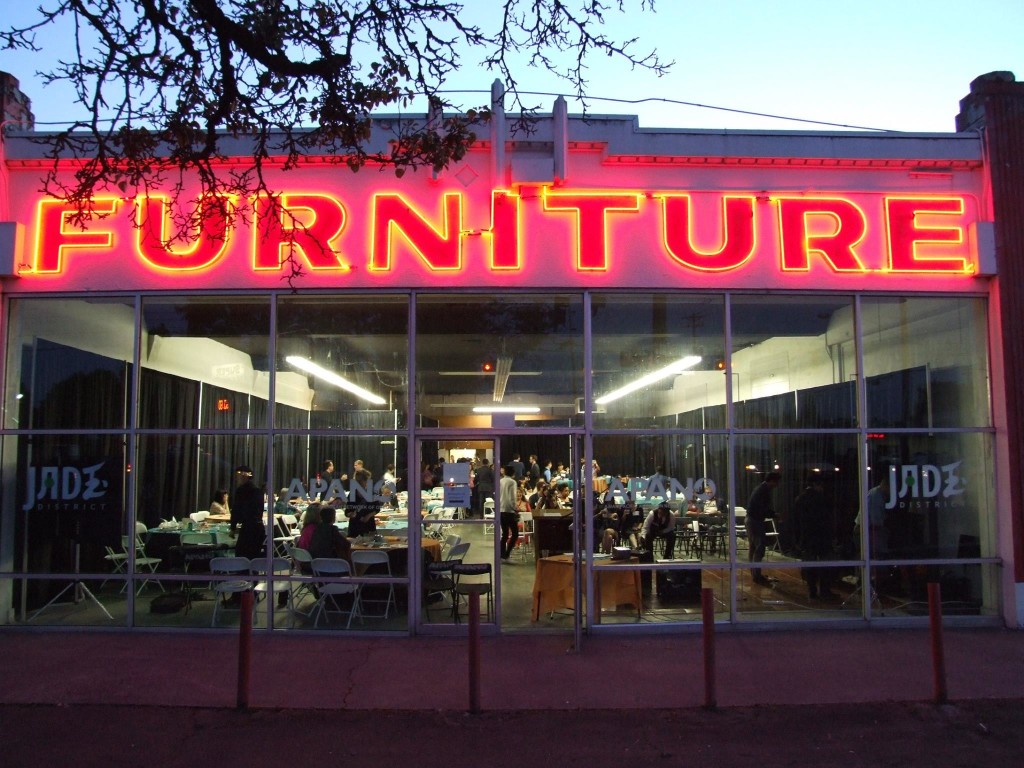 While the site awaits redevelopment, Metro has leased the property to the Jade District at no cost, allowing them to use the building for youth programs, community activities, and art exhibitions. Metro is now working with an advisory panel including local representatives to help select a developer who is best able to design and develop the site in a way that reflects community values, while delivering on a core commitment to creating permanent affordable housing at the future transit station area.
Lasting impact
Through their engagement, Metro has built valuable relationships that will make future plans and projects easier to complete in the future. As a further result of the visioning work led by APANO, DMA and the artist organizers, it will be easier for Metro to develop a local area plan with strong community input and support. That has benefits for the community but it will also ultimately save the agency money that advocates would like directed to implementation of a Locally Preferred Plan. APANO's early leadership through its community visioning and local planning have also earned the group a growing influence in the regional development community, having subsequently joined the Portland Development Commission and the influential Region One Area Commission on Transportation convened by Oregon's DOT.
All of this collaborative activity has set the stage for the design phase of the project which is managed by TriMet. These local groups are actively engaged with TriMet's Public Art Program to leverage the visioning work that has been done to date and maximize involvement in that aspect of the project.
Supportive local government
Along the way, Metro has supported these efforts, from partnering on the planned affordable housing development, to providing the equity group with resources on equitable development. In March, 2015, Metro drafted a resource kit of equitable development practices throughout the metro region.3
This research includes equitable development tools, case studies, lessons learned and best practices from projects across the nation.
But perhaps the strongest lasting impact the creative placemaking component of this large-scale advocacy effort has provided is in bringing people together. "It creates a unified force, which we need given the issue we'll face with changing real estate market," says Todd Struble. "We would not have worked as closely together otherwise, and if it's just one or two neighborhoods, it is easier to mask over."
"You can see the wall coming down because of the partnerships," added Lori Boisen. "People feel connected on both sides of the freeway".
Lessons learned:
Art can be a conversation starter about difficult issues in the community.
Art can make it easier to develop trust and collaboration between local government and historically underserved communities.
Having a visual representation of community desires can create better opportunities for conversation than only a list of demands.
Showcasing the positive aspects of your community can attract support and advance a shared vision for what you'd like the future to look like.
This story is also used as the local example of the approach "Develop Local Leadership & Capacity." Read more about this approach here.
Full copies of vision documents for the Jade District can be viewed here:

http://www.jadedistrict.org/About.html

.
Detailed information about the steering committee can be found here: http://www.oregonmetro.gov/public-projects/powell-division-transit-and-development-project/steering-committee
Read about that resource kit on the Metro site: www.oregonmetro.gov/public-projects/powell-division-transit-and-development-project/equity