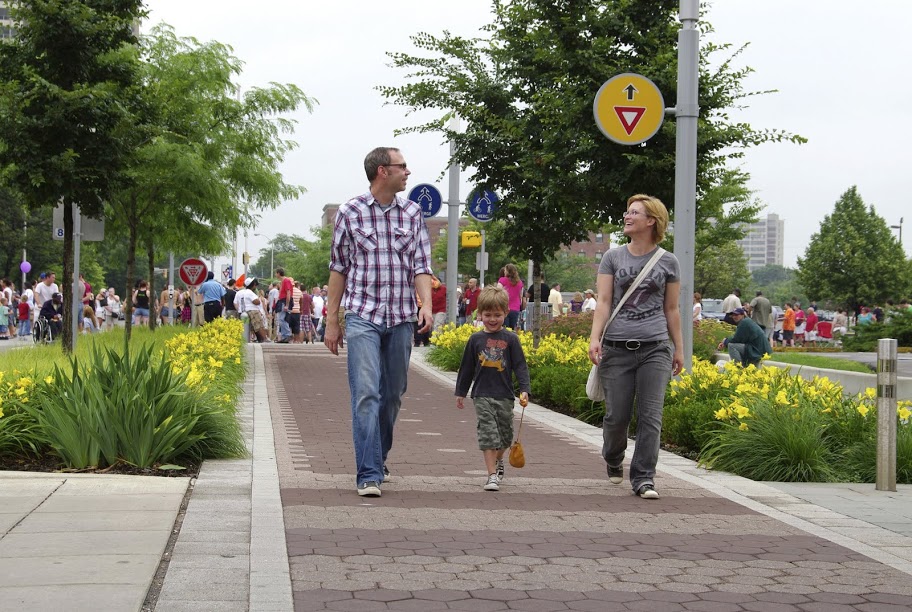 Welcome to The Scenic Route
by James Corless, Director, Transportation for America
We wrote this guide to introduce creative placemaking to transportation planners, public works agencies and local elected officials who are on the front lines of advancing transportation projects.
More than ever, transportation agencies need the engagement and support of local communities. Whether projects as basic as the redesign of an intersection or as complex as the construction of a new light rail line, meaningfully engaging the public so they have a say over the project ultimately makes the project more successful. Better engagement and support can help avoid 11th hour controversies and build the type of public trust that is more important than ever for advancing infrastructure plans and even winning new revenue for transportation at your city council, the ballot box or in your state legislature.
Creative placemaking harnesses the power of arts and culture to allow for more genuine public engagement — particularly in low-income neighborhoods, communities of color and among immigrant populations — in the development of transportation projects. Forget the traditional, staid public meeting format and instead imagine artists engaging community members using multiple languages to generate meaningful dialogues, capturing their creativity and local knowledge to better inform the ultimate design of the project.
Done right, creative placemaking can lead to both a better process and a better product, in this case integrating community-inspired art into the ultimate design of the project as so many of the case studies in this guide demonstrate. The end results are streets, sidewalks and public spaces that welcome us, inspire us and move us in every sense of that word. It doesn't take much to get started, but it does require a new approach to public engagement along with intentional partnerships with artists, arts councils and community-based organizations. We hope this guide serves as your starting point to a journey that can truly transform your city.
A few pointers about this guide
This guide is broken up into a few big pieces. Everything under the Getting Started tab above covers the broad strokes of the concept of creative placemaking in transportation. This is a great section to read linearly if you're new to the topic.
Our Eight Approaches is not a linear list (nor is it the limit of what you can do), but are starting points to peruse. Each of the eight basic approaches consists of three things:
An intro page with some basic information about the approach
The Get Inspired: Local Examples section under each approach provides at least one local, concrete example
And a section called "Go Deeper" provides a few more detailed resources under each approach
Placemaking in Practice provides several longer local examples that serve as fuller pictures of what this approach can look like from beginning to end.
Finally, find all the places listed anywhere in the guide under featured places, and the appendix has some extra material on how to track and measure progress.
One more time: What is creative placemaking?
In the transportation context, creative placemaking is an approach that deeply engages the arts, culture,and creativity — especially from underrepresented communities — in planning and designing projects so that the resulting communities better reflect and celebrate local culture, heritage and values.